PlayAmo Casino New Customer Welcome Bonus Codes and Offers Reviewed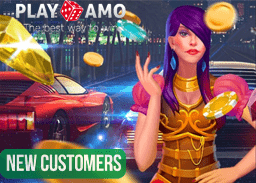 Whether you are new to online gambling or a returning player in search of a new place, maximizing the promotion bonus you get when making a deposit is usually a very big variable in choosing where to play.
Players want as much of a chance to win as possible. Getting a big new customer bonus gives you extra money on top of your deposit and thus gives you more capital to use in an effort to beat the house.
PlayAmo Casino bonus codes are currently one of the best options in the online gambling industry. The casino is well established and has a polished site to host all kinds of games. The PlayAmo promotions are good for new customers but the casino also rewards regulars. More on that later. First let's look at what the casino has to offer players.
The gaming options available are ENDLESS
PlayAmo has the largest selection of slot games we've ever found. Indeed, the casino has thousands of games rather than hundreds. In total there are more than 3,500 slots and games from 40 different providers on PlayAmo. You read that right. It's an absolutely massive library of games.
The amount of slots and other games offered can be a key factor in picking what casino to entrust your money with. Whether a new customer or one that played a long time ago, you'd be hard pressed to find a place that offers a deeper selection of games to try.
Slots, slots and more slots
There's regular slots with many of the most popular games that regulars would know well or new customers can try for the first time and learn why they are so popular. In addition to the slots, they also have popular games like video poker, plinko and even bingo.
Some of the games have an ongoing progressive jackpot that keeps going up until someone wins it all. One game we saw had a progressive jackpot of more than 40,000 dollars. Not every online casino allows their jackpots to climb so high.
PlayAmo Casino has tournaments to give players another way to win
New customers will also find a handful of tournaments happening all the time. Players can try to rank high and win big money in the slot of the week but there's more than that to put the PlayAmo Casino bonus you used on your deposit to great use.
PlayAmo has a promotional tournament called Drops and Wins happening currently that offers players the chance for truly huge winnings. The promotion gives out 250,000 dollars worth of cash prizes each and every month.
There's a variety of ways the money is awarded. There's a weekly tournament that has a prize pool of 30,000 dollars. Those who are just looking for a daily opportunity can try to win part of the daily prize pool of 4,600 dollars. In total, PlayAmo will be giving away $2 million by February to new customers and regular players alike. Everyone is eligible to participate.
Players can win free spins every 12 hours in special event
Still there's more. PlayAmo also has a Fast Spin event happening. Players 'race' each other. Players spin and accumulate points based on the results. The player with the most points when time expires wins the top prize. The event has a prize pool that awards 750 dollars and 1,000 free spins every 12 hours plus a weekly prize pool of 10,500 dollars and 14,000 free spins.
New customers and returning players should both pay attention to the tournaments happening on PlayAmo. It is one of the best ways to win because you can still win with a great spin but also have a chance at the prize pool winnings.
PlayAmo Live Casino gives players a more authentic look and feel
Slots and other video style games aren't for everyone all the time. If you are someone who is looking for something different or simply a player who likes to vary it up and bounce around the different ways to gamble, PlayAmo has options.
In addition to the slots and games, PlayAmo has a live casino area. It's exactly what it sounds like. Players can ditch the computer determining the odds and sit down to try their luck with a real dealer.
Playing with a live dealer not only offers some real interaction but dealers are subject to runs of bad luck where players win hand after hand after hand creating large stacks of chips.
PlayAmo has live Blackjack, roulette, poker, baccarat and even some live games featuring popular game show themes.
Finally, what PlayAmo Casino bonus codes offer?
Alright, so what about those PlayAmo Casino bonus codes for new customers that were mentioned earlier? PlayAmo Casino deposit promotions change every once in a while so you should always check what ones are currently available prior to making a deposit.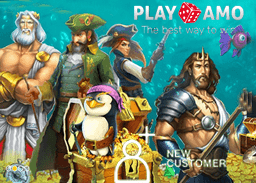 However, at the time we looked, PlayAmo Casino had substantial bonus codes active for new customers and even some for returning players. Here's a full list of what we found.
First, PlayAmo Casino has a bonus code for your first deposit. Players can get a 100 percent match of up to 100 dollars plus up to 100 free spins. The spins are awarded 20 at a time over a span of five days. The PlayAmo Casino bonus code for this is FIRSTDEP.
Need to re-buy to win back what you lost? PlayAmo Casino has a bonus code for your second deposit as well. This time you can get a 50 percent match of up to 200 dollars and 50 free spins. If you couldn't guess, the PlayAmo Casino bonus code for this one is SECONDDEP.
Returning players get PlayAmo Casino bonuses twice a week
As I said, there are codes for returning players as well. They can be had on either Friday or Monday. PlayAmo Casino's bonus code for Friday is a 50 percent match on up to 250 dollars plus 100 free spins for popular The Golden Owl of Athena slot game. The code for this Friday Reload promotion is RELOAD.
For the Monday promotion, PlayAmo Casino has no bonus code. Players can get 100 free spins for Arcane Reel Chaos or Gold Canyon simply for making a deposit. This is good for new customers and returning players.
Big pockets can get bigger limits on match
There's one more promotional bonus being offered when we took a look. If you're a high roller, the limits placed on deposit bonuses can be frustratedly small compared to the amount you deposit.
PlayAmo Casino has a bonus code specifically for high rollers to thwart this issue. New customers and returning players can get a 50 percent match of up to 2,000 dollars when depositing at least 1,000 dollars. Just put in the code HIGHROLLER to get it after making the deposit.
As was stated earlier, the specific PlayAmo Casino bonus codes that are active change and players should always take a look at what ones are currently offered before making a deposit even if they aren't a new customer.
Maximizing the value of your deposit is an easy way to give yourself more chances to win. You're there for the enjoyment of it all and being able to do that for a longer period of time is what it is all about.
Loyalty program can earn you a sports car
PlayAmo Casino also has a VIP program for players to earn special awards with. New customers are instantly eligible. Players can work their way up through the ranks by playing. The higher the rank the better the rewards.
There are a total of eight levels. When you reach each level you get a reward. They start small but get bigger and better. Reach the final level and you get a crazy reward. The reward for reaching Diamond is a Ferrari 488 GTB! Yes, a real Ferrari. A player can go from a newbie to getting a fancy sports car for free.
Quality built PlayAmo Casino app makes things easier for players
One final thing to touch on in regards to the quality of PlayAmo Casino is their app. Yes, the casino has an app available to download. The app improves the functionality of all games and makes it so much easier to play.
Not every casino has an app and even some that do, have an app that is buggy and completely worthless. The PlayAmo Casino app doesn't have these issues from our experience. Everything ran without a hitch.
Choosing the right place for your money isn't a simple choice with so many online gambling options available to players. PlayAmo Casino is one of the best options we've found for new customers as well as regular players.